For the first time in history, a health crisis has shut down the entire global economy, demonstrating how inseparable healthcare and the economy have become. The COVID-19 pandemic keeps making a tremendous impact in healthcare work environments. The need to keep patients from mingling together and a scarcity of PPE have had continued effects on hospital and healthcare business operations throughout the pandemic response.
Wearing full personal protective equipment (PPE) makes it difficult to clearly see and hear patients, colleagues, and the surrounding environment. This becomes a safety issue when providing care, working with equipment and doing precise work, such as charting or filling medications. Wearing goggles or safety glasses that fog increases stress and can lead to disastrous results.
The healthcare industry has one of the highest rates of work-related injuries and illnesses. Healthcare workers (HCWs) continue to provide care and save lives during the pandemic, despite exhaustion, increased rates of infections, and deaths of patients and loved ones.
Eyewear fogging can be dangerous and even deadly in healthcare environments
The current guidance for PPE from WHO has several categories depending on the level of risk. The focus is on contact and droplet precautions to prevent exposure of the nose, eyes, and mouth. The required PPE, for example, during hospital care of COVID-19 patients includes gowns, gloves, medical masks, and eye protection (glasses, goggles or face shield).
Safety eyewear needs to be relied on to provide protection and ensure safety. Accidents may happen really quickly on the field; it is therefore necessary for HCWs to maintain a clear vision at all times to avoid any disaster.
Safety eyewear fogs as a result of rising body temperature and environmental factors such as heat and humidity. Glasses can fog while exerting effort, such as turning intubated patients or walking upstairs. Going from cold to hot environments or vice versa, such as leaving an air-conditioned area and entering hot summer heat outside (as can be the case for temporary hospitals) or going from winter coldness to a warm environment, can interfere with your eyewear and vision.
When wearing a mask and eyewear, warm exhaled air from the mouth lands on the cooler lens of the glass and creates the formation of small water droplets. This condensation reduces visual acuity, scatters light, and negatively affects vision. Researchers interviewed medical staff at a hospital in Wuhan, China, who told them that their goggles fogging was a problem when caring for COVID-19 patients. They noted that fogging can hinder work efficiency and be dangerous. Nurses may not be able to collect blood properly or even injure the patient while trying to draw blood.
Since fogging is such a challenge for people who wear safety glasses and goggles, manufacturrs continue to strive to make advances in anti-fog coatings and lens technologies for improved performance, work efficiency, comfort and reliability.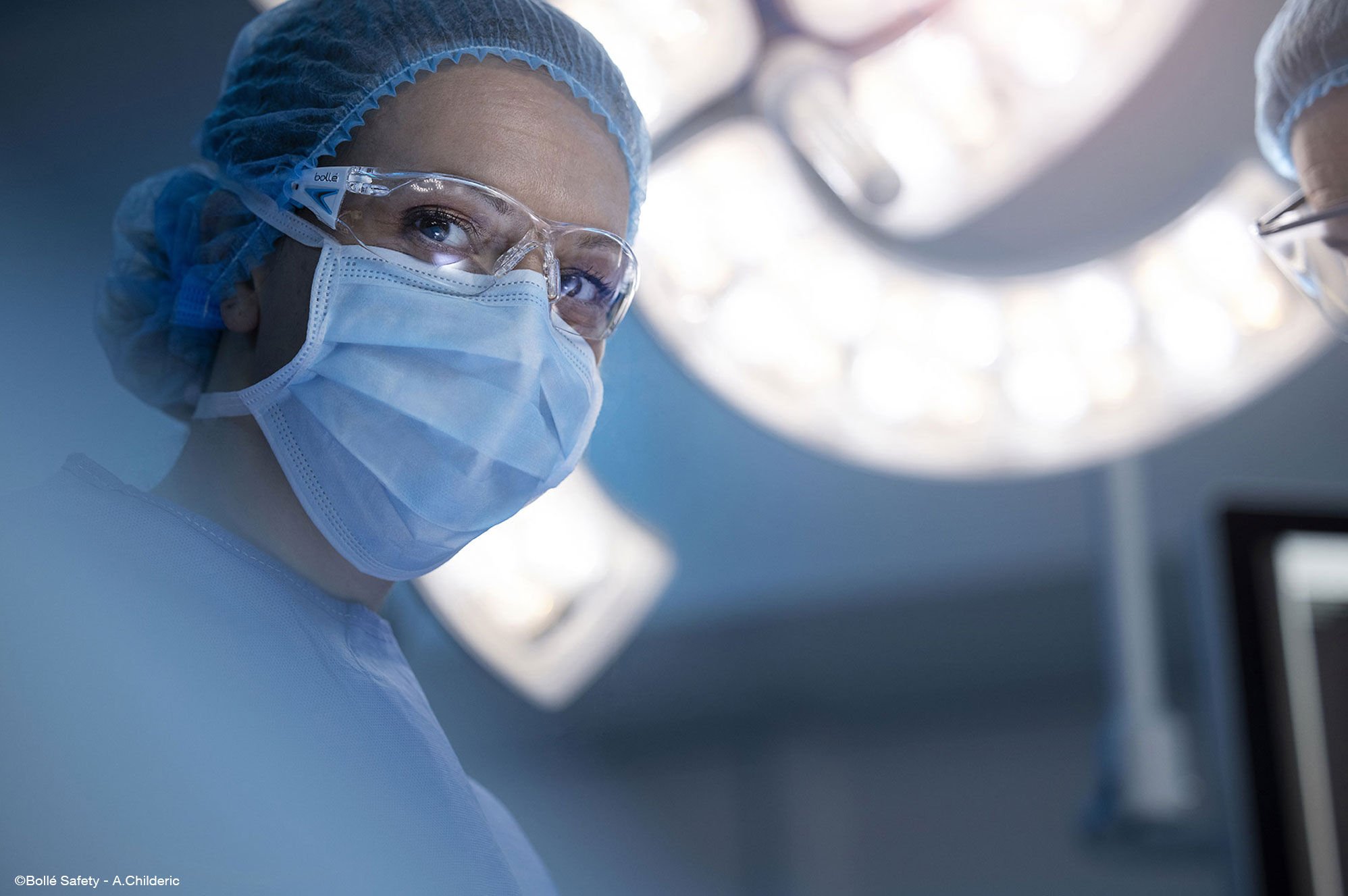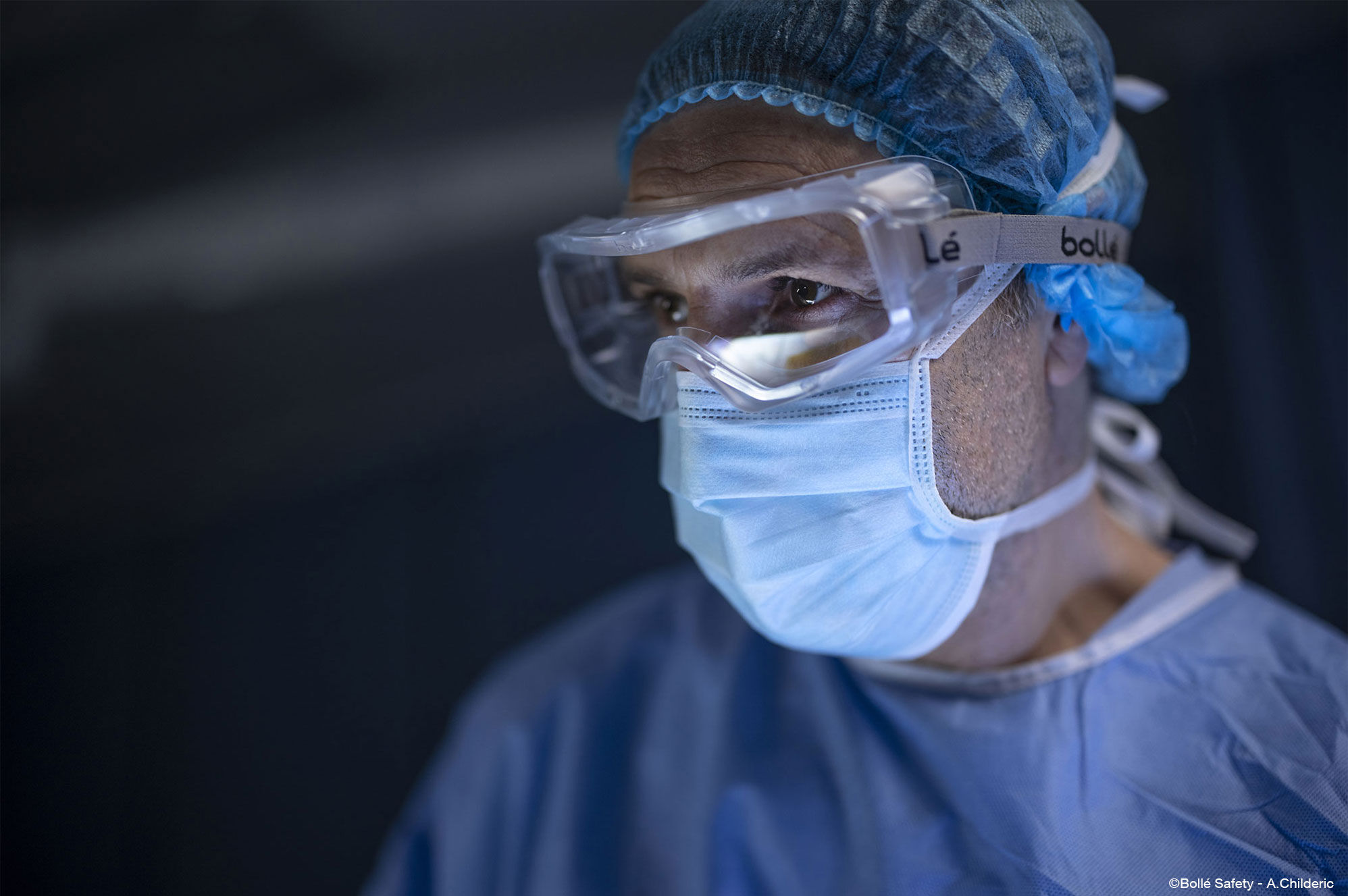 Innovative new protective coatings for safety eyewear
When choosing protective eyewear -- goggles should have a tight seal against the face, which restricts airflow but makes fogging a challenge. Safety glasses have more of an open design which allows air to flow across the lens moving moisture away.
Innovative protective coatings can keep safety glasses and goggles fog-free all day. Bollé Safety's unique and exclusive PLATINUM® technology, a permanent double sided anti-scratch and anti-fog coating, can be applied to a variety of products, including prescription safety glasse, which gives all eyewear a high resistance to scratching, to the most aggressive chemicals and delays the onset of fogging. Anti-fog protection on safety glasses is essentially a chemical coating incorporating hydrophilic materials that absorb moisture and hydrophobic techniques that divert excess moisture to the sides of the lens.
It's important to ensure that the eyewear is comfortable, and that vision is not impaired. A study of healthcare professionals in Singapore, including nurses, doctors and paramedical staff, found that of 158 workers, 81 percent had developed new PPE-associated headaches since the onset of the COVID-19 pandemic. They found that goggles lead to thermal discomfort due to the build-up of moist air and poorly fitted eyewear can put tension on the head. They emphasized that eyewear has to be comfortable while also being protective.
It's best to also look for safety eyewear that has anti-fog and anti-scratch coating applied to both sides of the lenses. Most protective eyewear on the market only protects the inside of the lens against fogging and the outside against scratching but this does not account for all the types of fogging up that can occur. Other technologies like PLATINUM® offer more comprehensive protection from fogging up by applying a scratch-and-fog-resistant coating on both the inside and outside of the lens. This approach helps deter fogging that occurs on the inside of the lens from body heat as well as on the outside of the lens caused by the environment.
Anti-fog eyewear solutions for hard-working healthcare professionals
Medical staff is exceptional for what they do every day to save lives, so they deserve the best and most comfortable protection. While fogging can have detrimental effects in a healthcare environment, including accidents and injuries, there are now anti-fog innovations that allow clear vision while wearing safety eyewear for long periods of time.
Ensuring that PPE eyewear is comfortable and free from fog and scratches guarantees HCWs benefit from high-performing technology and continue to do what they do best -- providing essential care.