The COVID-19 pandemic has had devastating humanitarian, social, and economic impacts globally and we are still learning about how the virus interacts with our bodies.
Much of the attention around preventing COVID-19 transmission has been focused on our mouths and noses -- forcing protection practices to evolve around the globe. Wearing a mask and frequently washing hands became essential among the general population.
The World Health Organization (WHO) has confirmed that SARS-COV-2 virus spreads between people through liquid particles (aerosol or respiratory droplets) that can linger in the air for minutes to hours, getting into peoples' mouths, noses, and eyes.
In medical care environments, eye protection is used by healthcare personnel to protect their eyes from exposure to splashes, sprays, splatter, and respiratory secretions. Healthcare workers (HCWs) have been at the frontline of this global health crisis and they must have the best personal protective equipment (PPE) to protect themselves from airborne transmission.
COVID-19 can be transmitted by entering your body through your eyes
We know the primary manner COVID-19 is spread is by respiratory droplets coming in contact with mucosal membranes. The virus spreads from an infected person to its new host through liquid particles when they cough, sneeze, speak or breathe heavily. However, the eye surface contains a similar mucosal lining and ACE2 receptors, which bind to the virus, therefore, eye protection in medical settings is crucial.
COVID transmission through the eye may produce an inflammation of the conjunctiva, leading to redness and itchiness of the eyes. A recent study showed that viral particles have also been detected in conjunctival secretions of SARS-CoV-2 patients who presented with conjunctivitis.
The rate of people with COVID-19 who show ocular symptoms is still being researched and widely varies (from 4% to 31%). The same study showed that the most frequent ocular symptoms were photophobia (18%), sore eyes (16%), and itchy eyes (17%).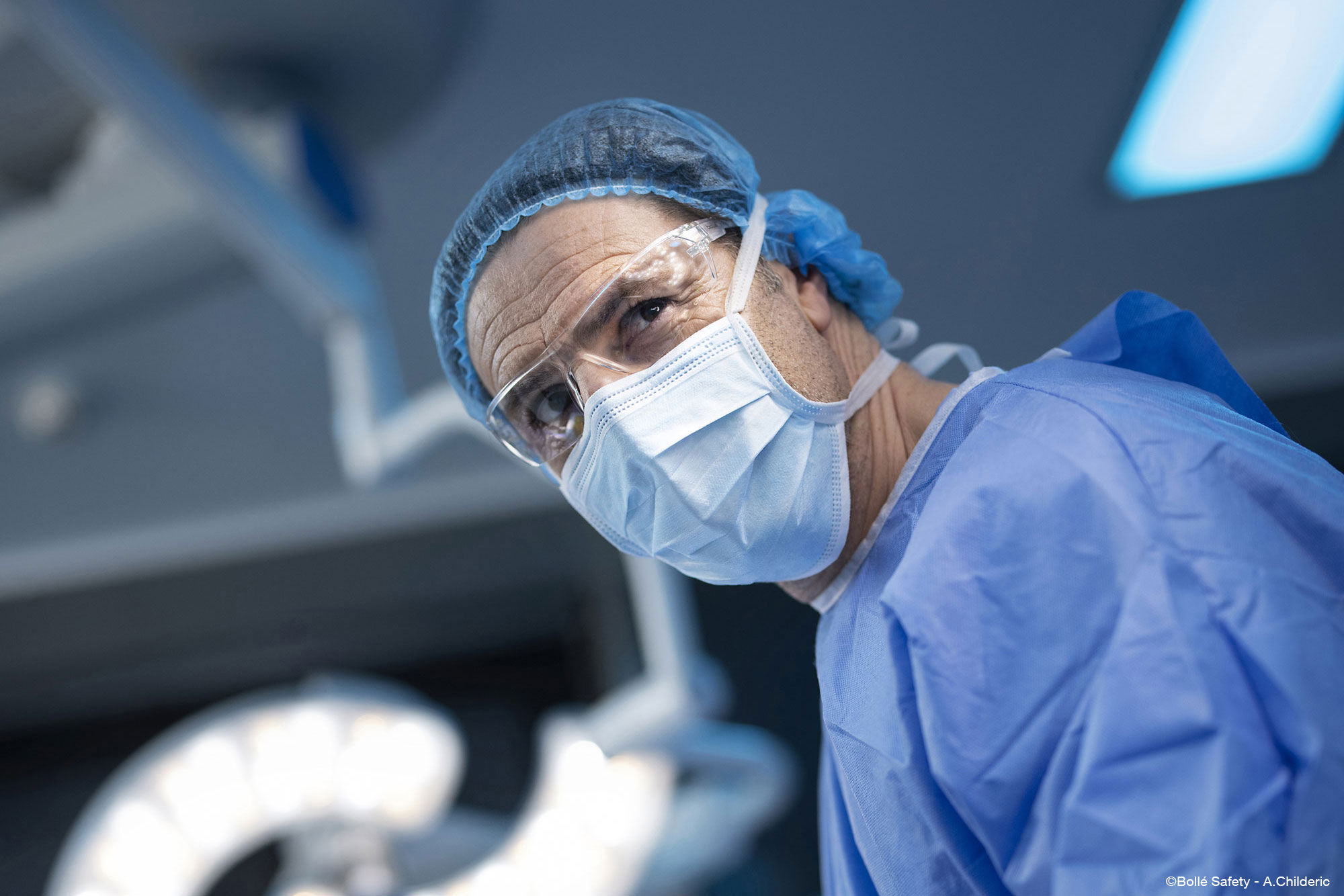 Early in the pandemic, doctors in China noticed that most of the patients testing positive for COVID-19 were not glasses wearers. A study of 276 patients hospitalized with COVID-19 in Suizhou, China, found that only six percent of patients wore glasses regularly, compared to 32 percent of the general population. These findings suggest that the eye may be an important infection route for COVID-19, and that daily wear of eyeglasses is associated with less susceptibility to COVID-19 infection.
While regular eyewear offers little protection to the eyes in a healthcare environment, protective safety eyewear is shown to reduce the risk of COVID infection via the eyes.
A review of 172 observational studies in healthcare and non-healthcare settings found that eye protection was associated with a lower risk of infection. Protective eyewear acts as a barrier against transmission from droplets or contaminated hands. Even while undergoing COVID-19 training, doctors, nurses, and HCWs touch their faces on average 17 times an hour, one study found. The same study found that nurses touched their eye mucosa more often than interns and assistant doctors. Even though medical staff are well informed about self-inoculation, protective behaviors are essential for preventing infection.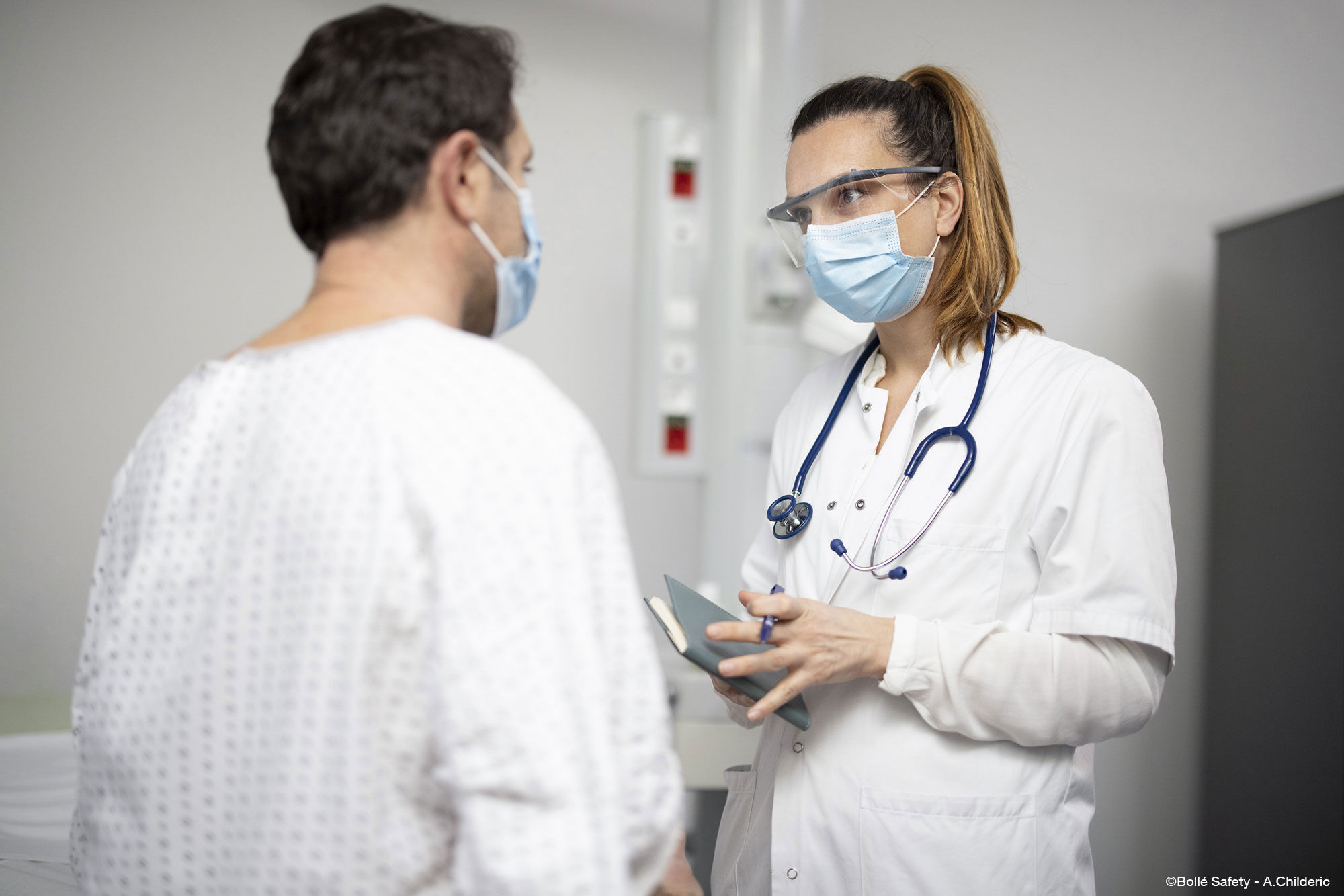 Setting HCWs up for success
The COVID-19 virus is still evolving as are current best practices for delivering care. The more viruses circulate among people, the more they change through mutation, causing variants of COVID-19 to emerge rapidly. Some mutations of the virus can spread more easily or cause more severe disease. HCWs in contact with patients should continue to be vigilant with proper PPE use and eye protection.
There are many use cases for protective eyewear; each has different benefits and depends on the field of use. Face shields provide ear-to-ear protection and 180° vision which may be suitable for front desk clerks as they interact with new patients every day. Face shields also allow a clear view of the speaker's mouth and full facial expressions during interpersonal communication, especially beneficial when interacting with the elderly or hard-of-hearing.
In situations where precise vision plays a key role (i.e. surgery), medical staff may benefit from safety glasses including prescription lenses or goggles which protect the eyes and allow for the unobstructed vision of small anatomical structures. These lenses can make a significant difference to the level of detail while protecting the wearer from COVID-19 particles.
Staff in care homes, who work in close proximity to patients or residents, are at risk of being exposed to bodily fluids, especially when bathing, grooming and washing patients. In these high humidity situations, using sealed eye protection is imperative. They offer the optimum barrier against splashes entering the eye.
Eye protection is currently recommended for all HCWs working with COVID-19 patients or in areas with moderate to substantial community transmission. Eye protection should also be considered anytime you're working in enclosed spaces with poor ventilation and especially when providing patient care.
A study published by The Lancet Global Health, highlights concerns raised among HCWs over impaired communication, physical discomfort, overheating and dehydration associated with PPE. For many HCWs, PPE is described as being tiring and uncomfortable to wear, making it more difficult to deliver care. Tight facial masks often caused facial pain, marks and bruises, rashes, dry skin as well as difficulties breathing, headaches and irritability.
Goggles fogging up whilst performing procedures, such as intubation and administration of anesthesia, are considered frustrating and stressful. Fogging is the biggest challenge when wearing safety eyewear but there have been many advancements in anti-fog coatings that allow for clear vision throughout the day. Anti-scratch technology is also important to maintain clear vision and avoid headaches, eye strain, and fatigue.
Comfort plays a non-negligible role when it comes to PPE in medical settings.
Safety eyewear must fit well and be comfortable to provide maximum protection with minimal interference to HCWs when concentrating on their tasks.
Protecting your eyes is our first priority
Our eyes are incredibly valuable to our lives and work but also very vulnerable to outside threats. Protective eyewear is an important part of PPE for HCWs. Bollé Safety delivers innovative eye care solutions and their wide range of protective goggles, safety glasses, face shields and safety prescription glasses guarantees the optimal solution for any setting.
To be as effective as they can be, HCWs need to take care of themselves first. Wearing eye protection helps prevent the spread of COVID-19 to HCWs and patients and will help us return to normality sooner.