When choosing your safety eyewear, ensure the fit is ideal. Nose bridge, frame size, curve, hinge flexibility, temples or buckles adjustments... there are various ways safety eyewear can ensure optimal protection and comfort.
FRAME CURVE
The curve of the frame will define whether the model is more or less wraparound. Curved products (8+) will be more protective as they will be closer to the face. If too small, high curved products may be uncomfortable for the wearer. For prescription eyewear, lesser curved products (4) can accommodate higher prescriptions.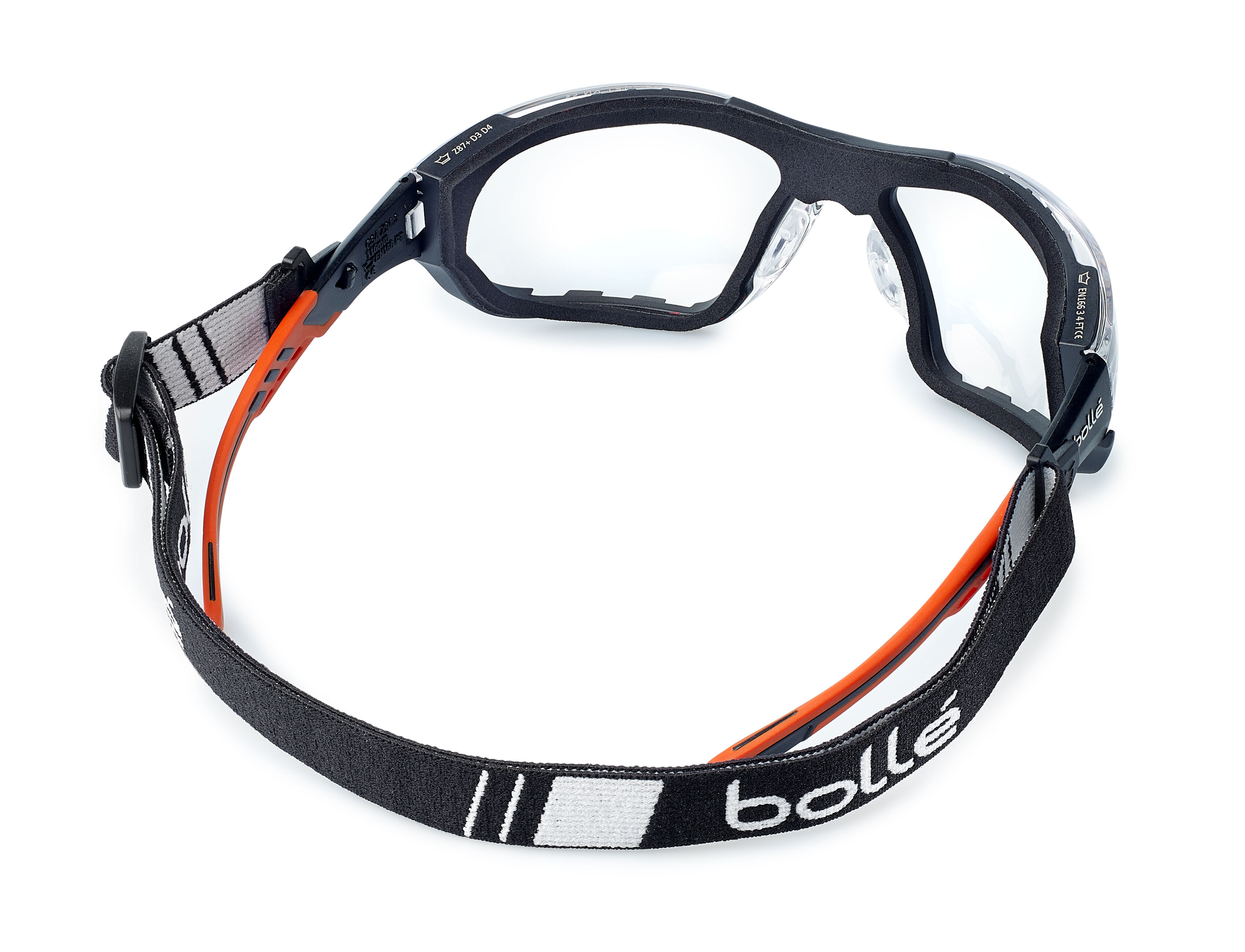 FRAME SIZE
Some models exist in different sizes, which ensure they provide optimal coverage to the largest number of users, whether they have large, regular or narrow faces. A product that has the right size will provide better support, without any pressure point, for a more comfortable wear.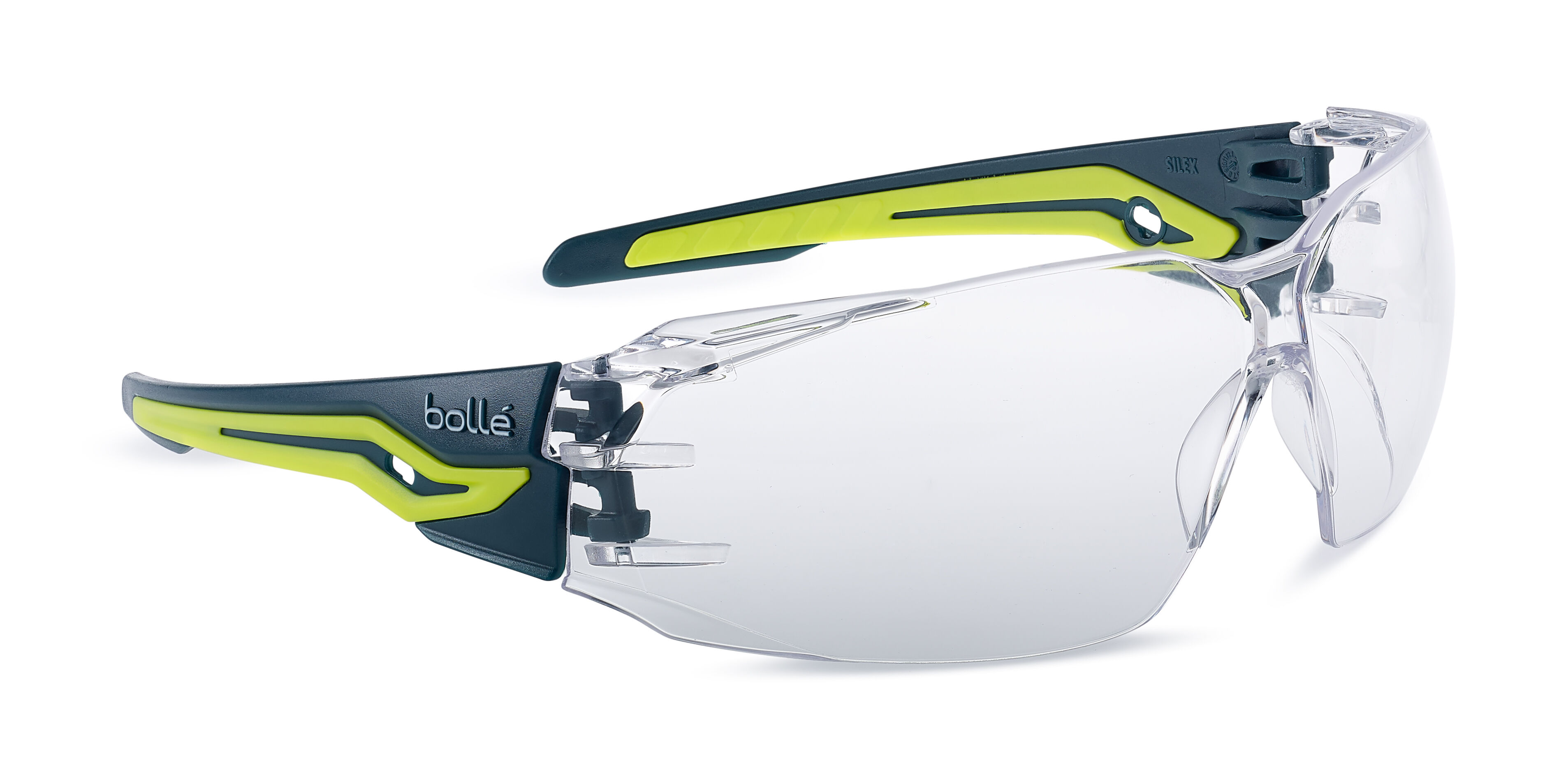 NOSE BRIDGE
Nose bridges are an essential part of the eyewear. They guarantee the products sit at the right position on the wearer's face. The nose bridge can be moulded within the frame to be as ergonomical as possible, or can be adjusted to fit most face shape. Versions with memory foam ensure a customised fit to the wearer.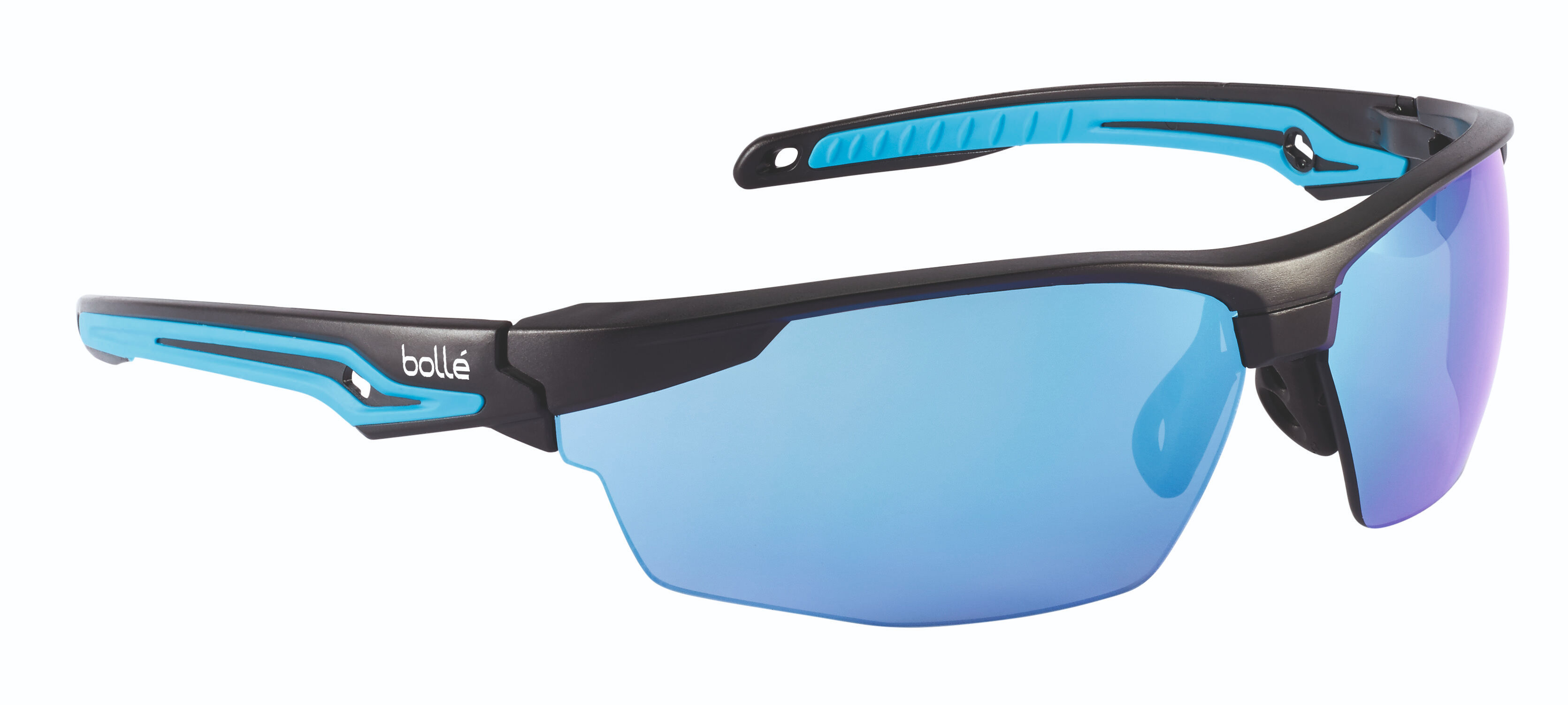 TEMPLES FLEXIBILITY
Correctly fitted temples ensure the product stays on the wearer's head at all times. Correct fitting reduces pressure points on the temples and behind the ears. Some hinges can open on a wider angle to provide a better fit and reduce discomfort.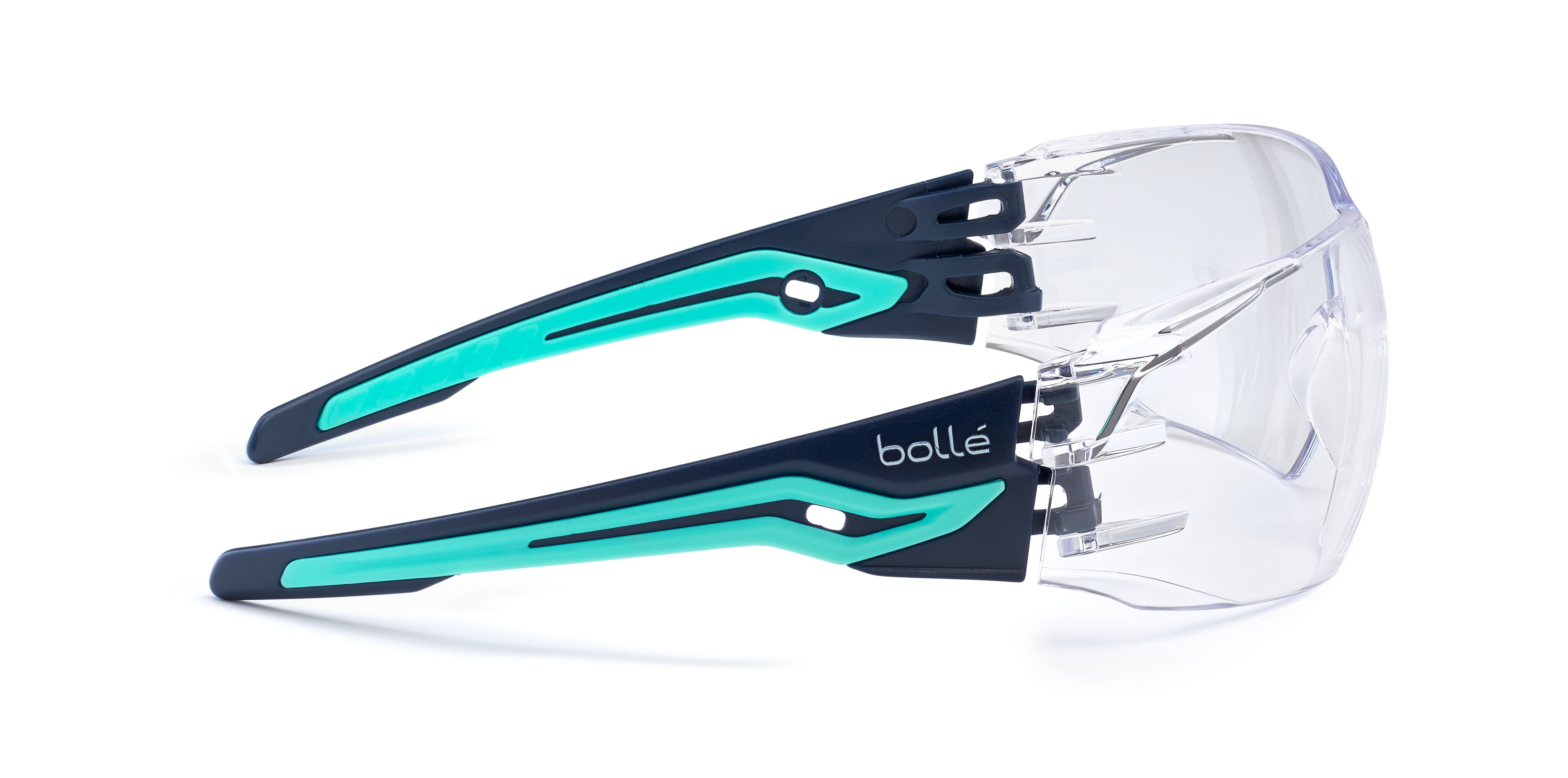 BI-MATERIAL FRAME
Bi-material frames are usually engineered with a material dedicated to provide robustness, while the other material ensures a more comfortable wear or improved support.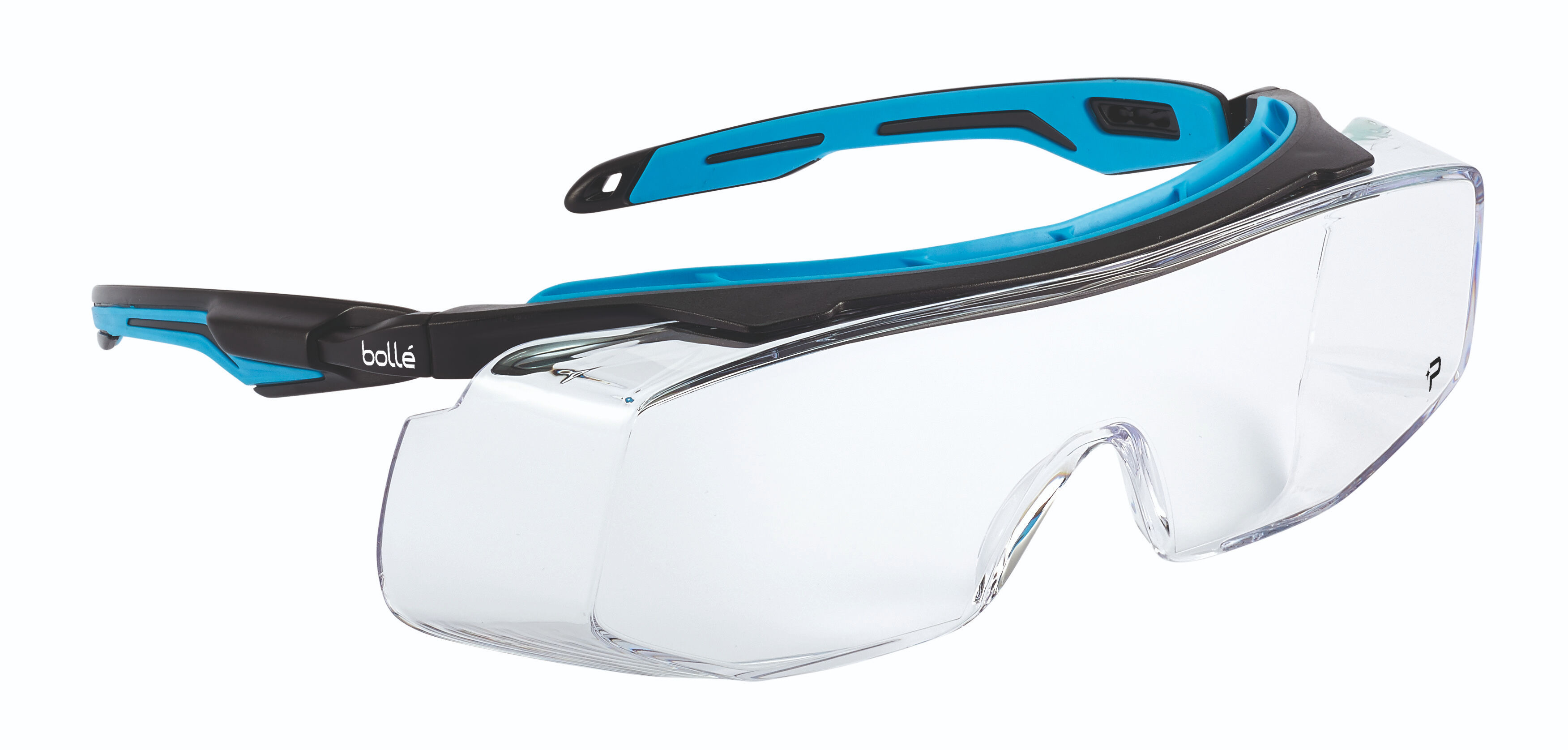 PIVOTING/ADJUSTABLE TEMPLES
Pivoting and adjustable temples provide a large range of fit with a single model. They provide optimal support and improved protection by sitting properly on both the ears and nose.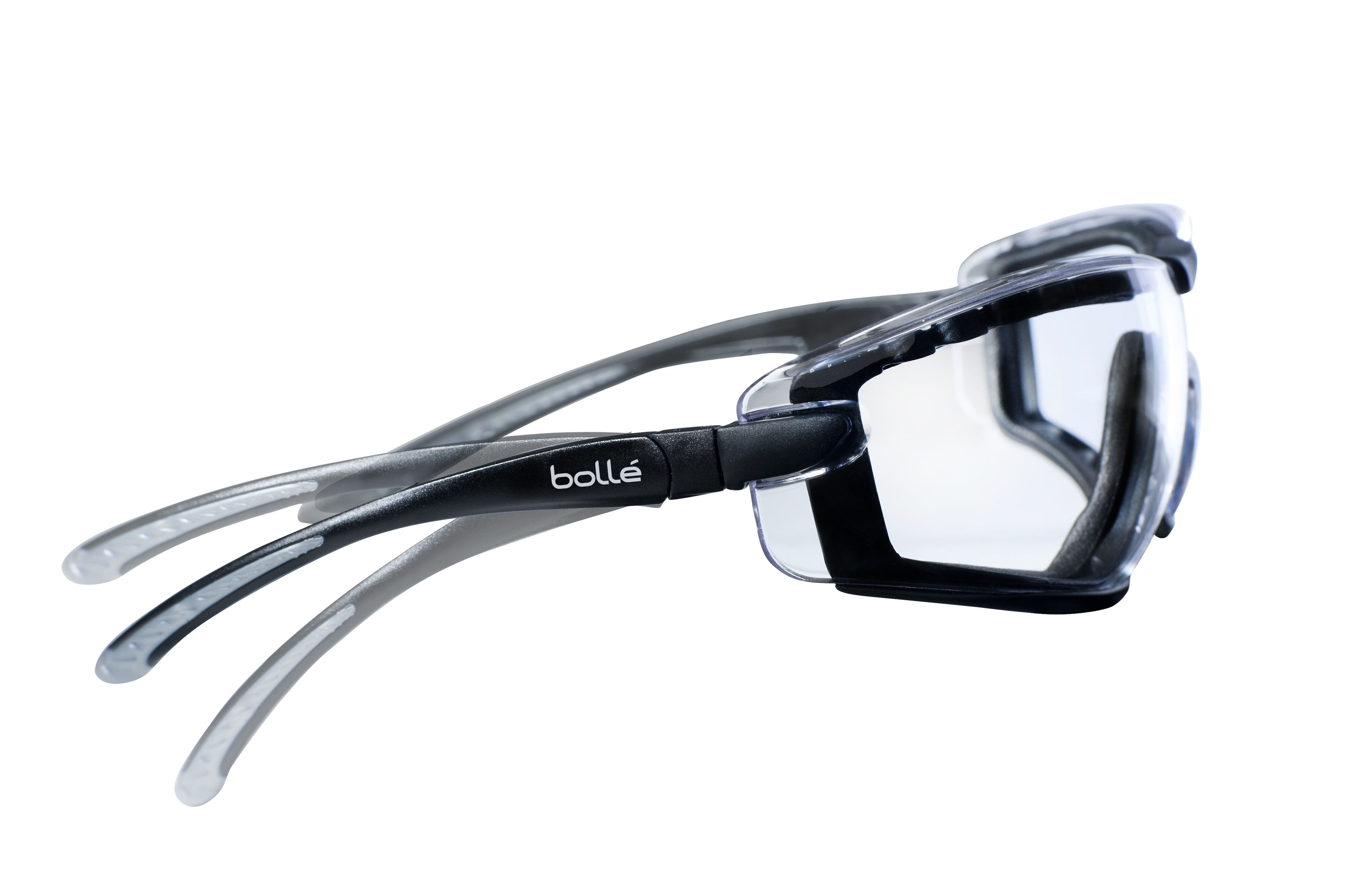 HYBRID PRODUCTS
Hybrid products offer a highly versatile product for a wearer who is required to interchange between glasses and goggles. Removable temples ensure the product is as light as possible for extra comfort.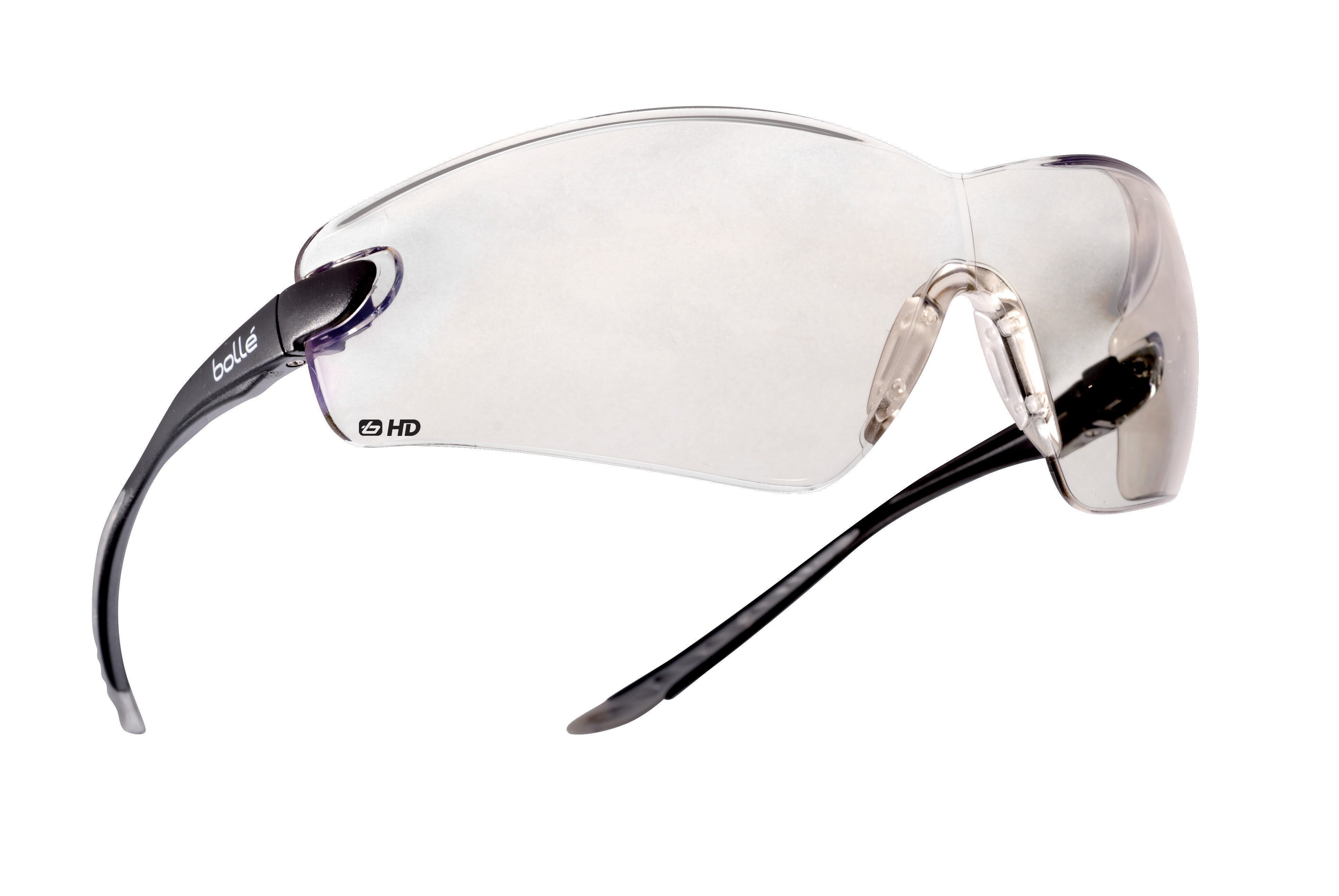 NON-SLIP TEMPLES
Non-slip temples allow the eyewear to maintain an optimum fit at all times. Available on most premium products, these temples are often designed with a pattern that maximizes grip.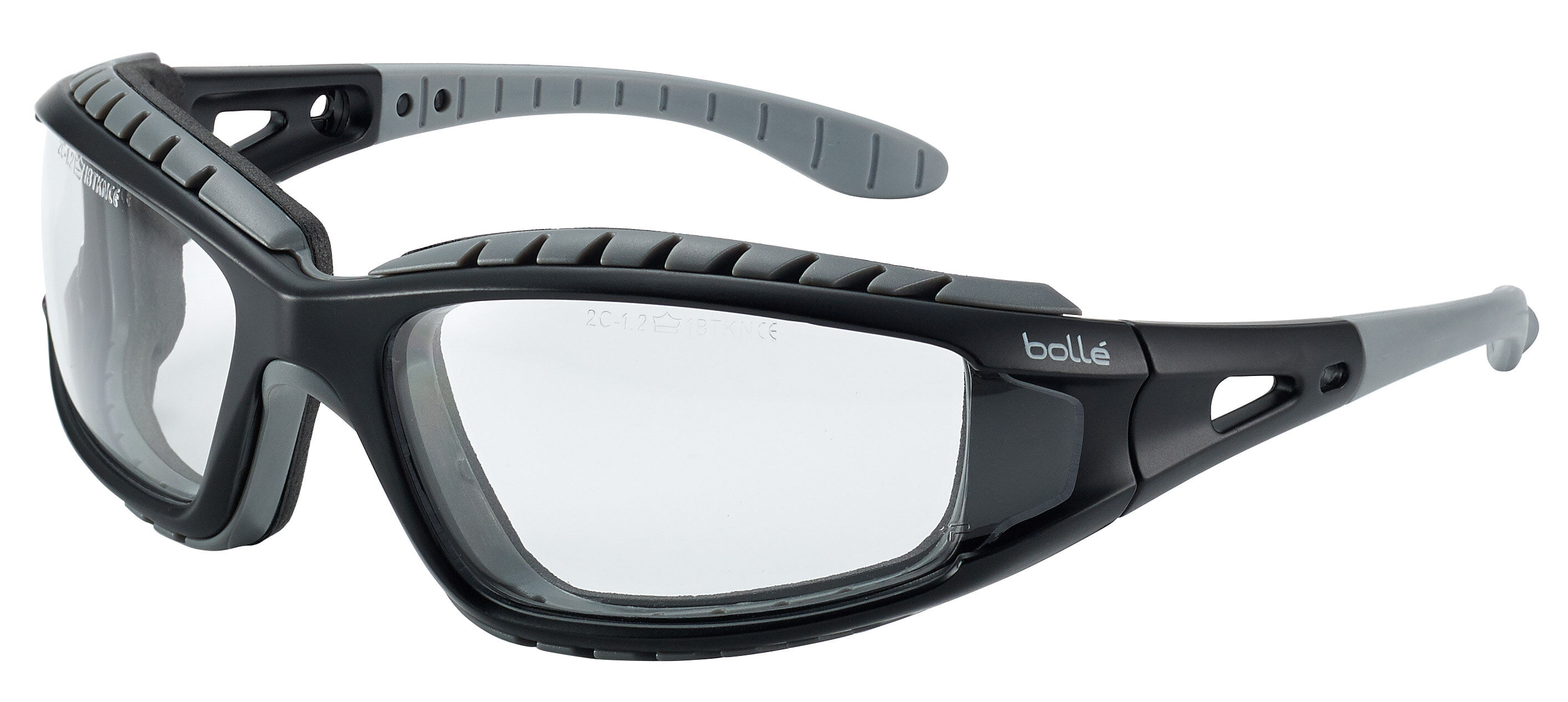 THIN TEMPLES
Thin temples help ensure maximum compatibility with other elements of essential PPE such as ear muffs and helmets . When combined with an adjustable nose bridge this also enables masks to be worn without interference.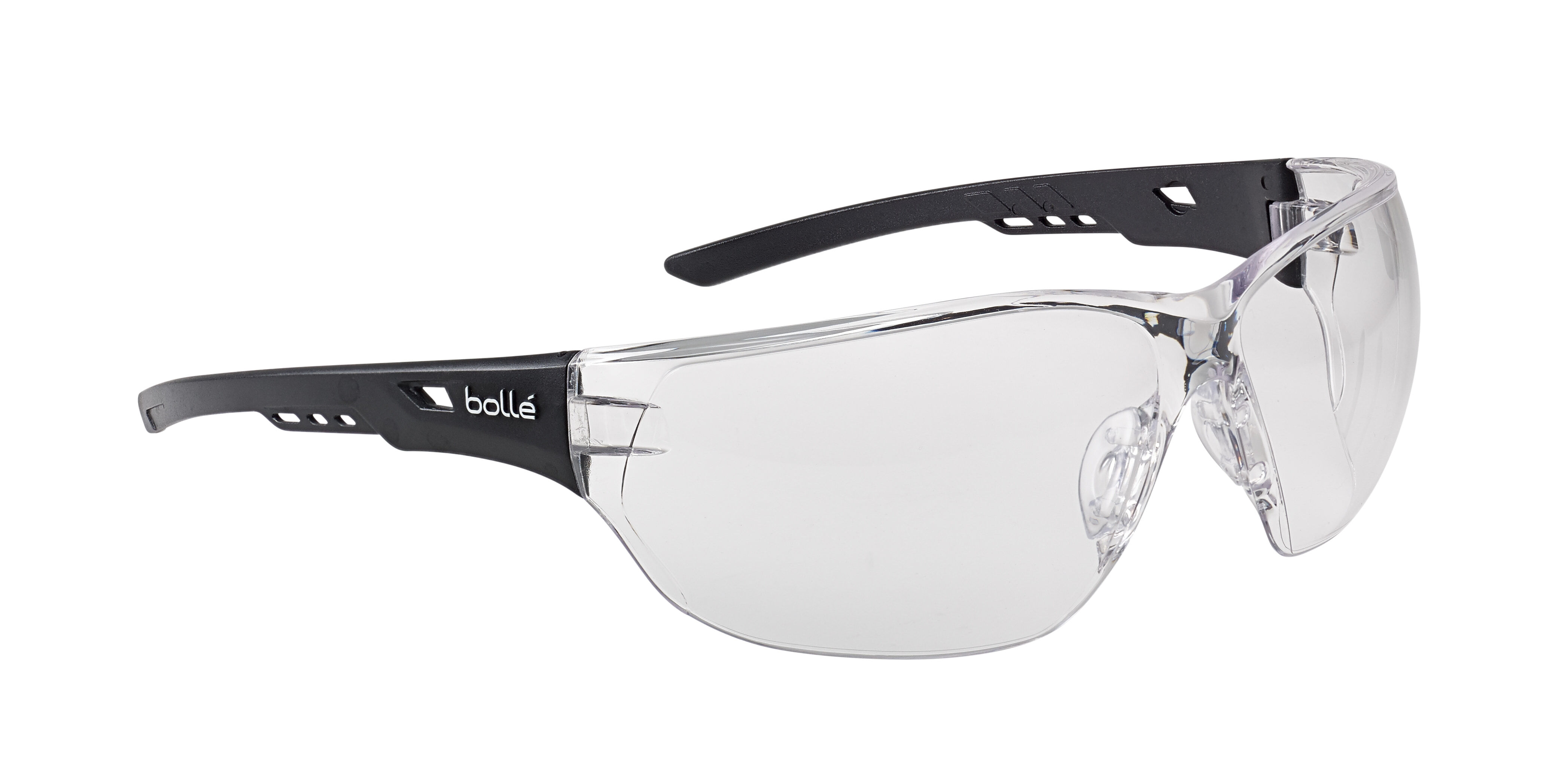 FOAM & STRAPS KITS
Additional foam and/or strap may improve protection and support.
These kits are available on a large selection of models and can, in some cases alter the classification of the impact rating.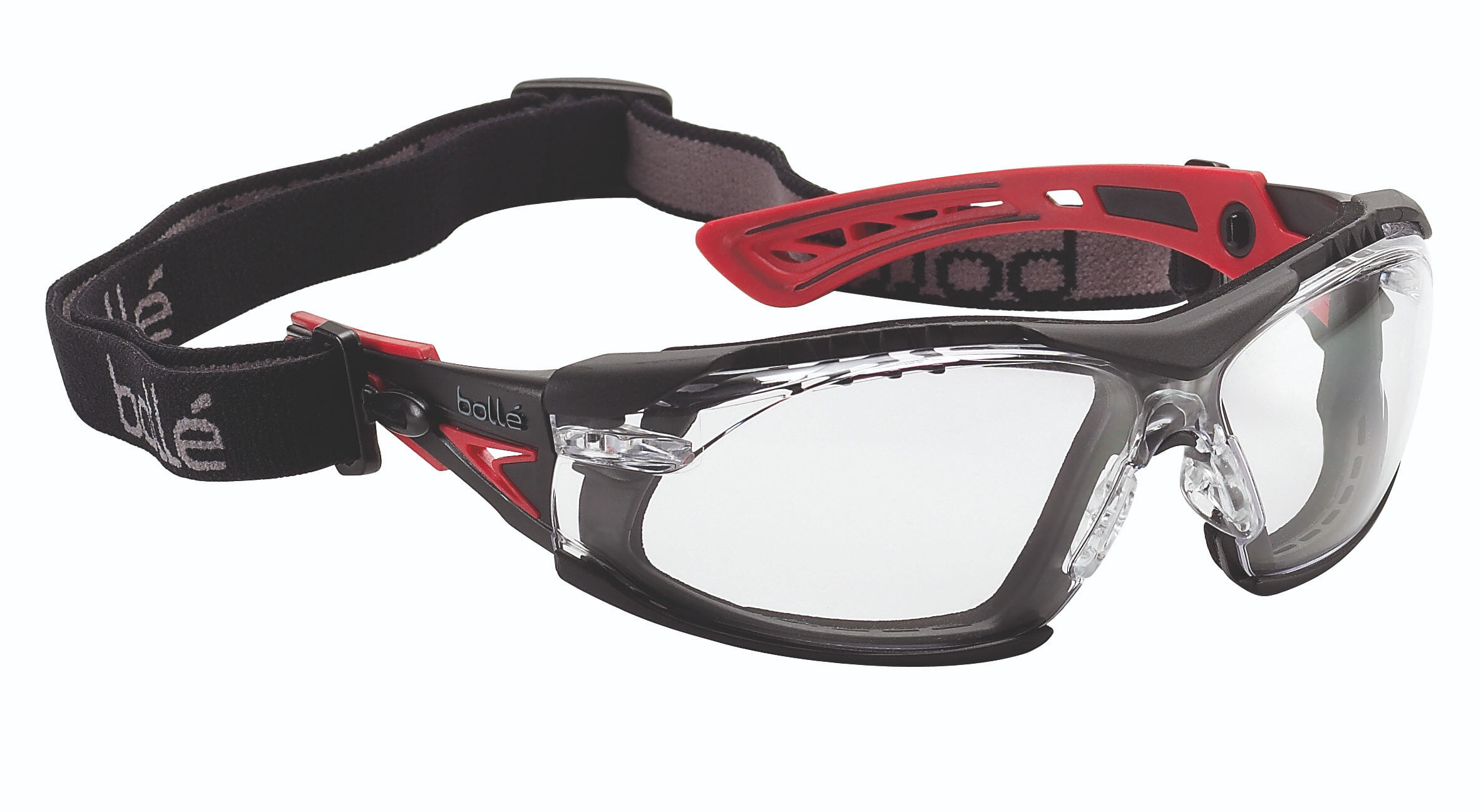 To reduce the hazards associated with impact, chemical splashes, dust, gas or molten metal, Bollé Safety offers a wide range of safety goggles for protection against a whole range of different risks. One of the driving factors to take into consideration is the type of ventilation of your equipment. All our goggles have also been tested and approved to Optical Class 1 which means that they can be worn all day and every day without affecting your vision.
VENTED FRAMES
The indirect ventilation prevents liquids from going directly into the goggle and affecting the eyes of the worker. The ventilation holes of the goggle frame are generally very small and placed around the top and/or sides of the goggles. Indirect vented goggles can provide protection against impact, liquid splashes, large dust particles and/or molten metal.
Indirect vented safety goggles allow air to travel across the frame which can prevent the lens from fogging.
SEALED FRAMES
Our sealed goggles are designed to provide protection from impact, liquid splashes, large dust particles, fine dust particles and gases, and/or molten metal. Check that your equipment is suitable for the chemical risks and liquid splash risks.
Sealed goggles must be fitted. The better the seal of your goggles, the higher the level of protection against liquid splash and chemical risks.