Sealed Eyewear has come a long way, and comes in a variety of styles and features to suit different requirements. Such development has been necessary: According to Comcare, approximately 59% of work-related eye injuries are caused by a foreign body in the eye.


Why do Eye Injuries Happen?
Not surprisingly, most of these injuries occurred when the patient was wearing either incorrect or no protective eyewear for the task. Reasons for this vary, from lack of safety eyewear knowledge, discomfort, or visibility issues when wearing the glasses.
A significant reason for not wearing the correct eyewear is their unsuitability for the conditions in which they are used. This makes them uncomfortable, or cause vision impairment due to scratching or fogging. Another issue is incorrect lens colour for the lighting conditions.


Factors to Take into Account
It isn't just the work itself that should be taken into account when choosing the right sealed eyewear. The working environment also plays a part. For example, in the hot, humid conditions of an underground mine, eyewear that is resistant to fog is useful in maintaining visibility. However, underground there is no need for the glare/UV protection offered by many models. In such an environment a clear lens is ideal for perfect optical quality. To prevent fogging and scratching, a coating such as Bollé Safety's Platinum®, can help ensure the wearer's comfort and safety by ensuring maximum visibility. In addition, vents in sealed eyewear allow airflow which further reduces fogging while preventing dust from entering the eye.
Rush + Seal Clear
Construction sites, open-cut mines and maritime environments present the issue of high temperatures and glare. These cause their own eye problems quite apart from those resulting from an eye injury. Tinting or polarisation filters UVA/UVB solar radiation and eliminates glare. This reduces the stress they can cause to your eyes as well as protect from the standard working hazards in these environments.
Baxter Polarised + Seal
Other working situations involve both internal and outdoor work. This creates another potential risk for eyewear to be taken on and off to improve visibility, despite possible hazards. Bollé Safety's CSP lens improves visibility across both bright and low light and is appropriate for those moving between the two environments as part of their work.
These lens treatments help to ensure the eyewear is suitable for the task, risks and conditions which increases the wearability of the eyewear.
When Sealed Eyewear is Best
Safety spectacles can provide significant protection against a number of hazards, and have a range of lens tints for different light conditions. However, when there are dust particles and liquid/chemical hazards in the environment, the space around the lens of typical or ill-fitting eyewear allows entry to the eye. More eye injuries occur from debris getting into the eye from around the lens than direct impact to the lens.
In environments where fine particles such as dust, fibres, or liquid splashes add to the possible hazards, sealed eyewear is a good choice. It ensures a positive seal between the wearer's eyes and the environment. This provides greater protection by preventing entry through gaps.
Obviously, goggles can provide such protection, and Bollé Safety has the edge on other brands in its ability to make goggles look good. This effectively deals with a common complaint of many a wearer. The added benefit of goggles is that many styles can be worn over prescription glasses which cannot themselves work in place of safety eyewear.
What's in a Goggle?
Not all goggles are the same: different models are developed with features for a variety of working conditions and hazards. For example, some of Bollé Safety's models include an upper vent to prevent fogging and eye discomfort. Others do not in order to maintain safety in highly volatile areas. Some are designed for thermal risk, perfect for those working around fire and heat. Indeed, Bollé Safety contributed specialised fire safety goggles to the firefighters working on the fires raging throughout Australia last year.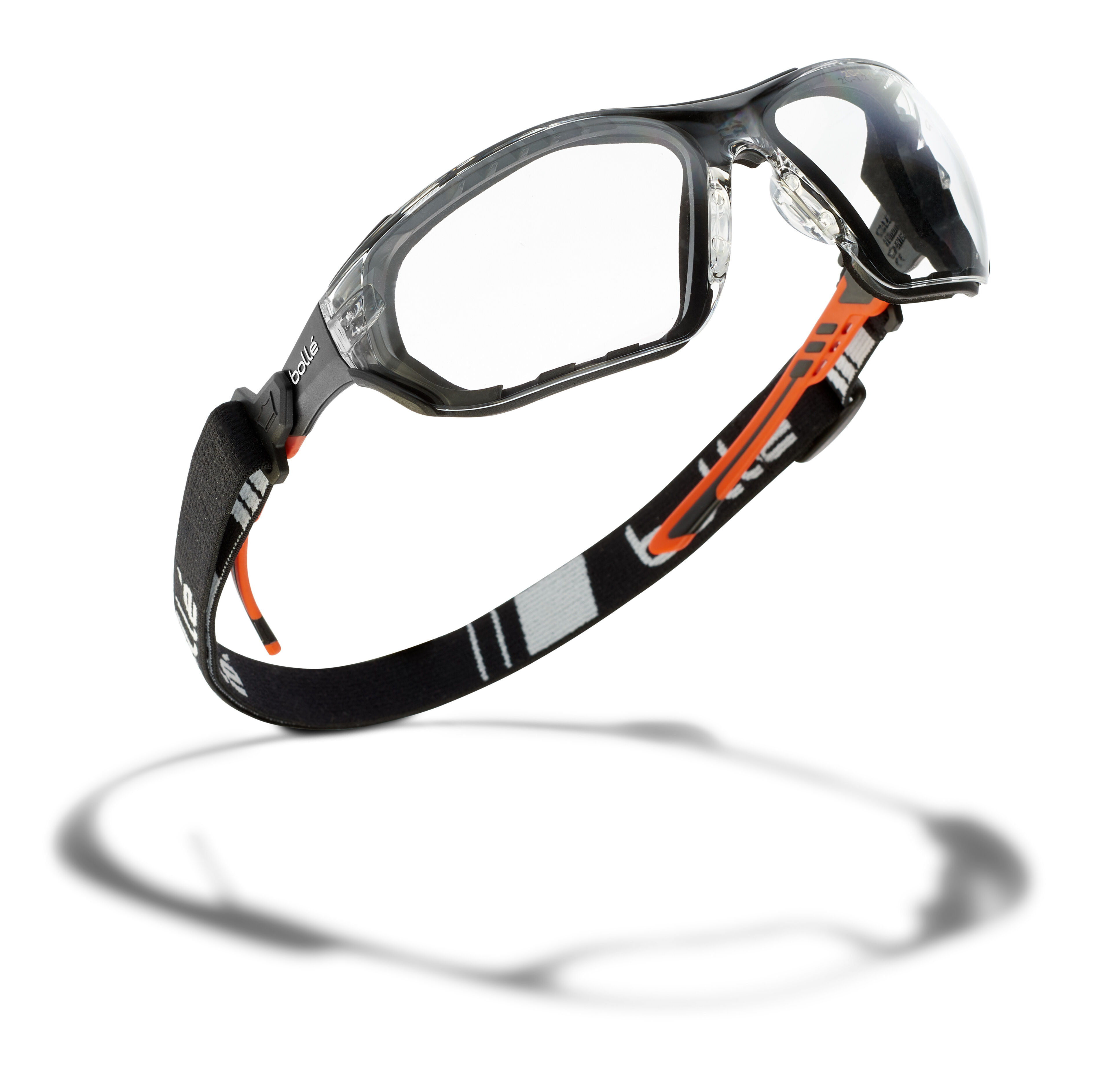 Sealed Safety Glasses: the compromise
Whilst goggles are an obvious option when sealed eyewear is required, safety spectacles can also come with a positive seal. They also offer the wearer greater flexibility in terms of size and features. However, not all sealed eyewear is created equal. For example, Bollé Safety's Rush+ Seal, Prism Seal and Rush Seal models all have removable foam gaskets. These can be put on when needed and then taken off when no longer required. The gasket will protect from flying debris and allow for airflow. These are suitable for workers who may need sealed eyewear in some areas but not in others. These models allow them to apply and remove the foam as needed.
Adjustable retainer straps can be attached as well as, or in some cases instead of the temple grips. This allows for a for a tighter fit or to improve comfort when used with other PPE like hard hats.
In short, there is a vast array of options for protective eyewear available, and it is important to consider the conditions and hazards the wearer will be exposed to, in order to find the best combination of features for maximum protection.